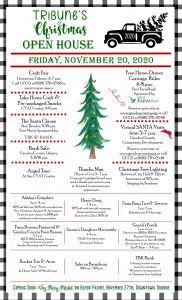 Join your friends and neighbors this Friday, November 20, for Tribune's Christmas Open House.  A full slate of festive, free activities is scheduled, sure to delight children and adults alike. Downtown stores will be open late for holiday shopping, the first clue for the Christmas Medallion hunt will be posted, and Christmas cheer will fill the air as community members enjoy free horse-drawn carriage rides, virtual visits with Santa, a free children's movie, and much more.
There are a few adjustments due to COVID, including the pre-scheduling of carriage rides and virtual visits with Santa. Bookings can be made on www.greeleycounty.org or by calling the Greeley County Community Development office at (620) 376-2548. The traditional soup and pie supper at the VFW has been canceled.
Activities include:
Book Sale. The Greeley County Library will host a book sale from 5-6:30 p.m.  The book sale will then run through the month of December.
Free Horse-drawn Carriage Rides. The free carriage rides will run from 4 p.m. – 8 p.m. departing from First Farm Bank, which is graciously sponsoring the carriage rides.  Reserve your ride here: https://www.signupgenius.com/go/10c0d4bafa62ca6fdc61-carriage
Free Virtual Visits with Santa. Santa will visit with children virtually from 5-7 p.m.  Children will go to the Greeley County Community Development office to have their meetings. Reserve your time with Santa online: https://www.signupgenius.com/go/10C0D4BAFA62CA6FDC61-virtual
Free Children's Movie – The Santa Clause.  Tribune's Star Theater will show The Santa Clause at 6:30 p.m. TBK Bank is graciously sponsoring the free movie.
A Take Home Craft & Pre-Packaged Snacks will be available at the CYAT Center from 4-6 p.m.  This activity is being sponsored by Greeley County Recreation. The CYAT Center will also host the Angel Tree.
Craft Fair.  The Christmas Fair invites crafters, merchants, and other displays to set up booths in a convenient downtown location.   Booths are available and can be arranged by contacting the Greeley County Community Development office at (620) 376-2548. The Craft Fair will open its doors at 4 p.m.
Christmas Tree Lighting. At 6:15, gather around the tree between City Hall and Elliott Insurance for the official lighting of the Christmas Tree.  Students from Greeley County Schools will perform a couple of Christmas songs.
I Know a Guy will host Thanks, Man which will include a gingerbread man and a thank you note to pay-it-forward to someone you appreciate. The event will run from 5-7 p.m.
The Community Angel Tree will be set up at the CYAT Center.
Business Specials. Downtown businesses will be running specials, some throughout the day, and some in the evening.
– Ashley's Graphics will have specials from 4-8 p.m., offering 20% off on fall tees and 50% on everyday tees. New Christmas apparel and accessories will be available and customers will be entered for a chance to win a $100 gift certificate with every purchase.
– Dixon Drug will offer 20% off with free gift wrapping from 4-8 p.m. (some exclusions will apply.) Fine jewelry will be 25-50% off.
– Farm Boys Tire & Service will host an open house from 7 a.m. – 5 p.m. and have refreshments and a drawing for those who attend.
– Farm Bureau Financial & Greeley County Farm Bureau will host an open house from 5-7 p.m. at their new location at 107 and 109 Greeley Avenue.  They will have snacks, drawings, and giveaways.
– Farmer's Daughter Mercantile will have their mobile boutique open downtown from 4-8 p.m.
– Gooch's Foods will be open from 7 a.m. – 6 p.m. and shoppers can enter to win $100 in free groceries. They can also enter the drawing for a free roaster.  They will host a Sip & Shop from 5-6 p.m. The winners will be drawn on November 20, 2020, and entrants do not have to be present to win.
– Rocket Tire & Auto will have in-house sales all week long.
– Saks on Broadway will be open extended hours, from 9 a.m. – 7 p.m.
– TBK Bank will have its Coloring Contest Winner posted in their windows.  Winners will be announced at the Christmas Tree Lighting.
-Shop Locally for Christmas Program: The Shop Locally for Christmas program will begin Friday, November 20, with the first drawing scheduled for Wednesday, November 25.
–Medallion Hunt.  The first clue for the annual medallion hunt will be posted on Friday, November 20.  Clues will come out weekly after that.  Once found, the medallion must be turned in immediately to claim the $100 Greeley County Bucks prize.
If you have questions about an event or activity, please contact the organization in charge or Greeley County Community Development at (620) 376-2548. For a printable schedule of events, please visit www.greeleycounty.org.