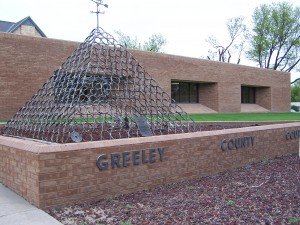 January 1, 2009, the governments of Greeley County and the City of Tribune united to form the Unified Government of Greeley County. Now, five elected members of the Unified Board of Supervisors oversee affairs for both the county and the City of Tribune. These five members represent two districts: the Municipal Services District (formerly the City of Tribune) and the General Services District (formerly Greeley County).  This innovative move streamlined local government affairs and resulted in a more-responsive, broad-based approach to addressing area issues. The City of Horace, located within Greeley County, chose to retain its own city council.
Members of the Unified Board of Supervisors are:
Monty Moritz, At-large
Steve Mangan, Municipal Services District
Scott Steele, General Services District
Justin Phillips, Municipal Services District
Kirby Kleymann, Chairman, General Services District
Unified Greeley County government meetings are held at the Unified Greeley County Courthouse on the 1st, 2nd, and 4th Mondays of the month.  The meeting on the second Monday is held at 1 p.m. MDT. The meetings on the 1st and 4th Mondays begin at 5 p.m. MDT.
For more information, contact
Unified Greeley County Clerk
208 Harper
P.O. Box 277
Tribune, KS 67879
(620) 376-4256