Pierce Lumber Co.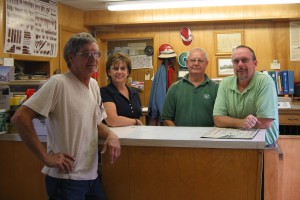 Pierce Lumber Co.
201 W. Greeley Avenue
P.O. Box 369
Tribune, KS 67879
(620) 376-4641
Contact: Bruce Pierce
Hours:
Monday-Friday: 7:30 am – 5 pm
Saturday: 7:30 am -12 noon
Pierce Lumber, a local, family-owned lumber business, offers Ready-Mix Concrete, windows, doors, millwork, paint and paint supplies, glass, hardware, sheet metal products, lumber, building hardware, power-activated fasteners, nails, screws, packaged concrete products, siding, drywall, garage doors, storm doors, window screen, mirror, fencing materials, and much more. They have access to any materials in the lumber and building industry.