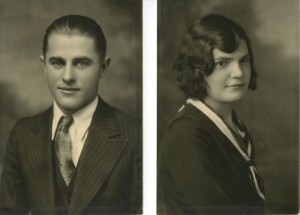 Oldtimers might remember Herman in his LP gas truck driving the country roads with his black dog, Wiggles beside him as he made his rounds to Greeley County farmers delivering gas.
Or they might remember Ruth on the piano bench (later an organ bench) at the First Presbyterian Church playing hymns for congregational singing or at home beside an eager piano student — $1.00 per lesson!
Herman Snodgrass was born in Horace, Kansas in 1906 and attended schools in Horace and Tribune. Ruth Black Snodgrass was born in Ragan, Nebraska in 1908 but moved to Tribune with her family and graduated from Greeley County High School in 1925. Herman and Ruth were married December 31, 1927.
Herman began working for the Greeley County road department after high school, then spent many years working for the Kansas State Highway Department which necessitated living in many Western Kansas towns including Syracuse, Garden City and Scott City. It was in Garden City that their only child, Marcia Claire was born in 1934. In each of these towns, Ruth usually found employment as a bank teller having had her first experience in the State Bank in Tribune.
Finally in 1946 the Snodgrass family moved back to Tribune and Herman started the Snodgrass Butane & Propane Company. Ruth taught public school music for three years and then continued teaching private piano students in her home for many years. The family were members of the First Presbyterian Church, Ruth was a member of Rebecca Lodge and Music Club and Herman was a Rotarian.
In 1957 after selling his business in Tribune, Herman and Ruth moved to Ulysses, Kansas where he was employed with Popejoy Construction Company and later Ulysses Co-op.  After retiring Herman took up woodcarving, surprising his friends with his latent artistic talent. Ruth continued teaching private piano lessons for many years, volunteered with the Grant County Hospital Service League and enjoyed playing bridge. In the years following the marriage of their daughter in 1954 to Bob Rober, they experienced the joys of being grandparents to Gray, Todd and Julie Rober who lived in Arlington, Texas.
Ruth Snodgrass passed away in 1990 and Herman Snodgrass in 2000.